Chamber News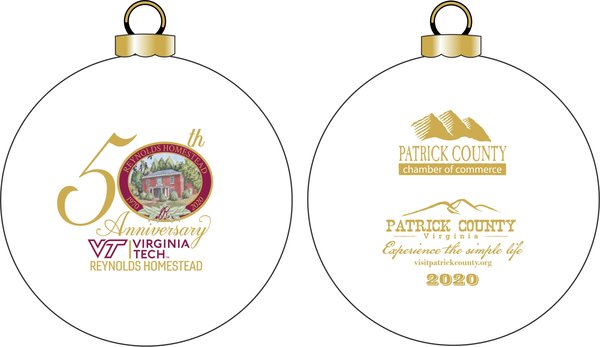 Patrick County Chamber of Commerce to unveil new 2020 Ornament
October 12, 2020
REYNOLDS HOMESTEAD CELEBRATING 50 YEARS WITH 2020 COMMEMORATIVE ORNAMENT
The Patrick County Chamber of Commerce is proud to make available the new "50th Anniversary Virginia Tech/Reynolds Homestead" ornament, adding to an already impressive ornament collection series.
The beautifully crafted ornament is NOW available for purchase at the Patrick County Chamber of Commerce Office, located at 334 Patrick Avenue, Stuart, with more outlets to be announced at a future date. The Chamber of Commerce is open to the public Monday through Thursday, 9:00 a.m. until 2:00 p.m.
The three and one-fourth inch treasured scenes glass ball ornament is beautifully displayed in satin white with frost overlay. The ornament displays a prominent 50th anniversary logo with a photo of the timeless beauty of Reynolds Homestead on one side and the 2020 commemorative date on the other side.
The ornament costs $13 each (sales tax included).
The Reynolds Homestead was built in 1843 as the Rock Spring Plantation, in Critz, Virginia, by Hardin Reynolds, a successful farmer and tobacco manufacturer. In 1810, Abram Reynolds and Polly Harbour Reynolds, Hardin's father, and mother, made their way west, starting a small homestead and gradually increasing their land hold. By 1825, Abram purchased 598 acres of land at the base of No Business Mountain and it was on this property the Reynolds Homestead was built.
Hardin and his wife, Nancy Jane Cox Reynolds, had 16 children, 8 of whom lived to be adults. Their oldest son, Major Abram David (A.D.) led a Civil War regiment at the age of seventeen and was father to Richard S. Reynolds, who transformed the metals industry with his founding of Reynolds Metals. Hardin and Nancy's second son, Richard Joshua (R.J.) established a tobacco empire in Winston-Salem, North Carolina. The Reynolds Homestead has been designated a State and National Historic Landmark and is listed on the National Registry of American Homes. (Excerpt taken from Reynolds Homestead website reflecting the history of Reynolds Homestead.)
In 1970, Nancy Susan Reynolds, daughter of R.J., deeded the home and 717 acres to Virginia Tech. A Community Enrichment Center and Forestry Research Center were established and continue to serve the region.
For additional information about the new 2020 Virginia Tech/Reynolds Homestead ornament, call the chamber at (276) 694-6012 or visit www.patrickchamber.com.