Chamber News

January 14, 2021
Racing into 2021 continues with the "Racing Under Caution" Awards. . . . read more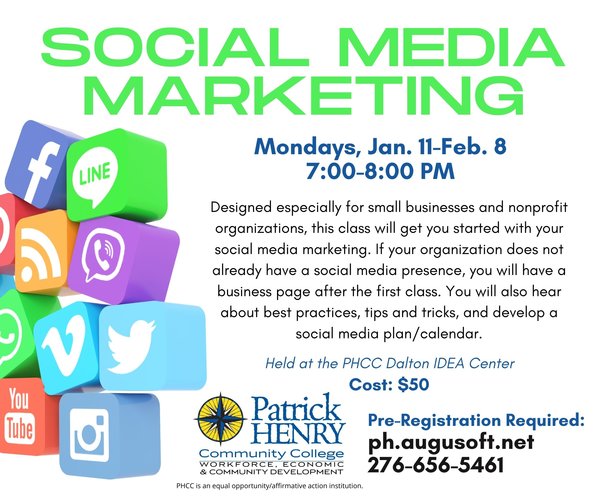 Social Media Marketing
January 11, 2021
Designed especially for small businesses and nonprofit organizations. The class will get you started with your social media marketing. Sponsored by Patrick Henry Community College Workforce, Economic, and Community Development. Class held at PHCC Idea Center. Cost $50. Pre-Registration required. www.ph.augusoft.net or call 276-656-5461.

January 3, 2021
Please consider joining the Chamber. . . . read more
Upcoming Events

500 N Main Street - The Stokes County Arts Council will host artist Ilse Watkins in the Apple Gallery during the month of January 2021. The exhibit is entitled "Nature's Beauty" -- an exhibition of photography. Virtual Opening: Friday, January 15, 2021 - live at 5:30 PM on Facebook: www.fb.me/StokesArtsNC. Exhibit Dates: January 1 - 310, 2021 . . . learn more
Jan 15-Feb 19: Reynolds Homestead Student Art Show
Reynolds Homestead Student Art Show Accepting Artwork through February 19 This year's Student Art Show will be held virtually, to keep everyone safe and to make things easier for art teachers in the region. Students may submit art through their classes at school, or independently, through our Google Registration Form. Please encourage your children, grandchildren and friends to submit work this year. Students in grades 6-12 are eligible if they attend school (or are homeschooled) in Patrick, Henry, Franklin, Floyd, Carroll, Stokes or Surry counties.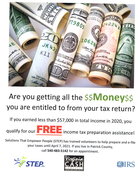 Rotary Field, 420 Woodland Drive - Are you getting all the MONEY you are entitled to from your tax return? If you earned less than $57,000 in total income in 2020, you qualify for our FREE income tax preparation assistance! Solutions that Empower People (STEP) has trained volunteers to help prepare and e-file your taxes until April 7, 2021. If you live in Patrick County, call 540-483-5142 for an appointment. Tax preparation will be on Tuesdays and Wednesdays beginning February 2, 2021. The service will be by appointment only between the hours of 10-4. The location will be at the Rotary Field instead of the STEP building on Wayside Road. Clients will be asked a series of questions and have their temperatures checked upon arrival. Masks and social distancing are required. . . . learn more
| | |
| --- | --- |
| | Chamber Event |