Chamber News - 2019
Select Year:

September 11, 2019
The 67th annual Patrick County Agricultural Fair will get underway Sept. 17, with a Mud Boggin' competition slated to kick off the event.

The event gets underway at 7 p.m. Participants may bring their own ATV as spectators cheer on competitors attempting to make it out of the mud pit.

Other events, such as the Rodeo on the 20th at 7 p.m. and the Demolition Derby at 7 on the 21st. . . . read more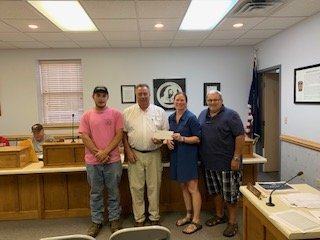 Patrick County Chamber presents donation to Stuart Volunteer Fire Department
September 6, 2019
The Patrick County Chamber of Commerce presented the Stuart Volunteer Fire
Department a check for assisting with parking at the 32nd Annual Virginia
State Peach Festival.

Pictured left to right: Alex Pegram, Terry Tilley,
Rebecca Adcock (Chamber director), and Terry Dalton.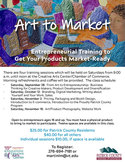 August 28, 2019
Art to Market: Small Business and Marketing Skills for Creative Makers . . . read more
August 6, 2019
NOMINATE SOMEONE OR APPLY YOURSELF - DEADLINE SEPTEMBER 3! The Reynolds Homestead is accepting applications for the 2020 class of Leadership Patrick County. This innovative pro­gram is designed to develop the leadership potential of citizens in the county. . . . read more

August 1, 2019
The third annual Voter Education and Candidate Forum is slated for Tuesday, October 8th at 6:30 PM. The forum will be at the Virginia Motorsports Museum and Hall of Fame Auditorium, located at 212 Wood Brothers Drive, Stuart, Virginia. . . . read more

June 3, 2019
STUART, VIRGINIA -- After more than three years planning and executing, WHEO Radio in Stuart will begin broadcasting on the FM airwaves for the first time in station history Monday, June third. . . . read more

March 27, 2019
Air Shift is gearing up for a second workshop. Come be a part. It is great professional development. . . . read more

March 26, 2019

Patrick County and the Dan River Region Collaborative (DRRC) are pleased to announce that Patrick County has been designated as a certified Work Ready Community (WRC). The nationally recognized designation by the Commonwealth of Virginia and American College Testing (ACT) will help Patrick County attract new businesses and jobs in addition to strengthening the skill sets of the region's high scho . . . read more

Patrick County Upcoming Events
January 8, 2019
Late summer/early fall in Patrick County is a beautiful time to enjoy indoor/outdoor events and activities. Please check the Chamber's Events Calendar for all upcoming programs/events.

January 2, 2019
The 2018 Holiday Ornament and Mug available . . . read more