Chamber News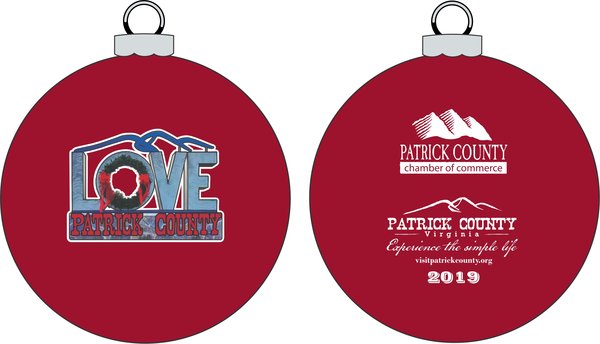 Chamber Unveils 2019 Holiday Ornament
October 3, 2019
The Patrick County Chamber of Commerce unveiled the new 2019 ornament, which celebrates 50 years of "Virginia is for Lovers."
            The Patrick County Chamber of Commerce is proud to make available the new 2019 ornament, celebrating 50 years of "Virginia is for Lovers," adding to an already stunning ornament collection series. 
            This impressive ornament is three and one fourth inch glass, gloss dark red with silver caps, with "Love Patrick County" artwork on one side of the ornament and the Patrick County Chamber and Tourism logos and 2019 commemorative date on the other side, a beautiful addition to your already amazing collection or a beginning of a new collection series.
             Going off the theme "Virginia is for Lovers," the Virginia Tourism Corporation released funds to assist in the construction of "Love" signs throughout the State, to be emblematic of the community in which they're built.  Now complete, the iconic Patrick County Love Sign, one of the largest in the State of Virginia, overlooks Dehart Park and can be accessed from the parking lot of the Patrick County branch of the Blue Ridge Regional Library in Stuart.  The sign incorporates the county logo with the sweeping lines of Bull Mountain over top of the word LOVE and Patrick County spelled out on the rock façade.  The Patrick County "LOVE" sign has been officially endorsed by the President of the Virginia Tourism Corporation, the Stuart Town Council and the Patrick County Tourism Advisory Council.  As a specific note of interest, this sign became the 50th located across the state, and one of just a few in Southwest Virginia. 
            More recently, two additional "Love" signs have been added to Patrick County.  One at Stanburn Winery (158 Conner Drive, Stuart) and the other at Nancy's Candy Company (2684 Jeb Stuart Highway, Meadows of Dan).  A ribbon cutting ceremony to commemorate the LOVEwork was held by the Patrick County Chamber of Commerce at both locations on Monday, September 30th with public invitation.
            The cost of the 2019 "Love Patrick County" ornament is $13.00 (sales tax included). 
 For additional information about the new 2019 ornament, call the Chamber at (276) 694-6012 or visit www.patrickchamber.com. This Holiday tradition is supported by the Patrick County Tourism Department.