Chamber News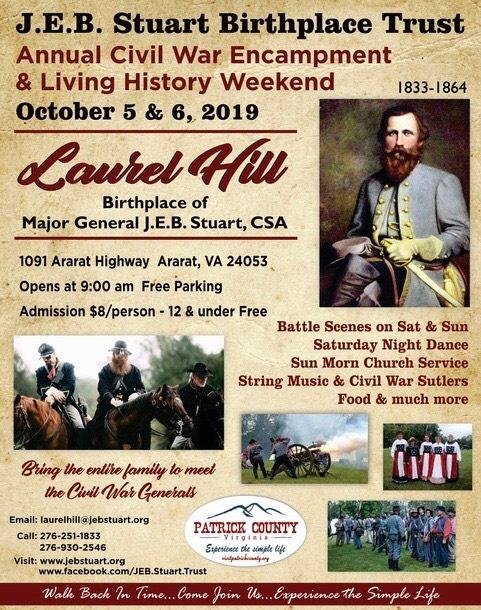 Annual Civil War Encampment and Living History Weekend
September 17, 2019
The JEB Stuart Birthplace Trust announces the 28th Annual Civil War Encampment and Living History weekend for October 5-6, 2019, at Laurel Hill in Ararat, VA.
28th Annual Civil War Reenactment and Living History

At Laurel Hill, Ararat, VA , October 5-6, 2019

The JEB Stuart Birthplace Trust announces the 28th Annual Civil War

Encampment and Living History weekend for October 5-6, 2019, at Laurel

Hill in Ararat, VA.

Address: Laurel Hill, 1091 Ararat Highway, Ararat, VA

Time: Opens at 9:00am-4:30pm

Admission: $8.00 per person, children 12 and under free, Parking: Free

Telephone: 276-251-1833

Civil War battles are to be reenacted on both Saturday and Sunday.

Our day begins on Saturday with a grand review, flag raising and

special presentations.

The Birthplace Trust will sell gift items such as books, prints, mugs,

T-shirts and much more. We will be selling used Civil War books at

discount prices, and ladies Civil War dresses (home made), parasols,

bonnets, etc.

Music will be by:

Herbert and Tina Conner-Sunday morning

Laurel Hill String Band

Fisher Peak Timber Rattlers

Speakers will include:

• Civil War Poet-Henry Timrod

• Wayne Jones – as William Alexander Stuart

• Lucas Wilder – as JEB Stuart

• David Chaltas as Robert E. Lee

• Sam Winkler as Gen. William Terry

Authentic Civil War sutlers will be on hand with food and merchandise.

Sutlers and concessionaires including Southern Traditions fried pies,

Windy Hill Orchards local produced apple cider, old time blacksmith

demonstrations, Mad Hatter children's toys, Patrick County Historical

Society, JEB Stuart Camp 1598 SCV, Stuart Wharton Camp, period tintype

photographer, pottery vendors, Possum Hollow clothing and quilts,

Ararat Rescue Squad concessions, and authentic Southern Barbeque by

All Sauced Up. Other special events include, Ladies Fashion Show and

Tea by Joan Williams, Saturday night dance, Black Rose Memorial

Service ,and Sunday morning church service directed by Rev. Allen

Farley, Civil War Chaplain, and Stuart family members (to be

announced).

Mark Kinan from Pittsburgh, PA He will provide teaching tents, with

various displays, antiques and handouts, designed to engage the public

in conversations about the War Between the States. They will discuss

soldier and civilian issues, prisoner of war camps. Infantry,

artillery and civilians will be represented. Special attraction is

banjo music (one of Jeb's favorite instruments).

This event is sponsored by the Patrick County Tourism office in

Stuart, VA. Our guests from out of town are encouraged to visit

Patrick County and "Experience the Simple Life." This will be both an

educational and an entertaining event.

All proceeds of this event go toward preserving the Birthplace.

Come visit Laurel Hill, an official Virginia Civil War Trails Site,

and step back in time!

This document was prepared by Thomas Bishop, Publicity Contact for the

JEB Stuart Preservation, Inc.

Telephone: Home: 276-694-6895

Mobile: 276-692-5094