Event
Rain Barrel Workshop - Learn to Harvest Rain With Us!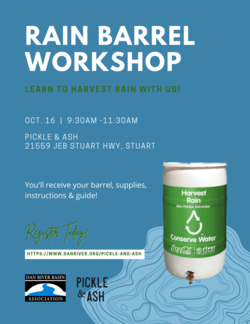 Pickle and Ash - 21559 Jeb Stuart Hwy - Stuart, VA - 276-694-4405

We're excited to collaborate with Dan River Basin Association to offer you this opportunity to learn about & take home your very own rain barrel on Saturday, October 16! During the workshop you'll not only learn about this fantastic natural resource conservation tool, but you'll construct your own and learn all the helpful tips too! The workshop will be held 9:30AM - 11:30AM on Pickle & Ash's covered back porch. Registration is limited, so register soon. This workshop is offered at a special rate of $18 (normally $50) for Pickle & Ash followers & guests by using the link www.danriver.org/pickle-and-ash. All proceeds will go to Dan River Basin Association to continue their work to protect and promote the Dan River Basin through recreation, education and stewardship!
www.danriver.org/pickle-and-ash.