Event
Women Impact Virginia Series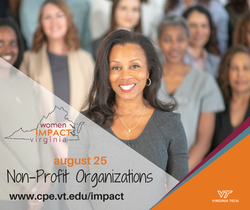 Nov 17, 2021



The Women Impact Virginia Series will aim to advance women leaders in Virginia. Each session will promote connections, engagement and empowerment of women who feel a desire to impact their community, region, state, nation and world. Whether you're currently working in these sectors, want to gain knowledge to shift careers, or are interested in hearing about the work taking place across Virginia, this series is for you. Each session is free to women across the Commonwealth and will include keynote speakers, networking and a discussion diving deep into industry best practices and tools for success. Two Sessions: August 25th - Nonprofit Organizations and November 17th - The Entrepreneurial Mindset The Women Impact Virginia sessions will be hosted via Zoom. In order to participate registration is required. A registration confirmation email will be sent once registration is complete and will include login credentials for each specific Women Impact Virginia session. For help joining Zoom via an email invite, from a browser, from the Zoom desktop/mobile application, from a landline or mobile phone, and with a H.323 or SIP visit the Zoom Help Center. This link also allows you to join a test meeting to familiarize yourself with Zoom. Before joining the Zoom meeting on a computer or mobile device, you can download the Zoom app from the Zoom Download Center. Otherwise, you will be prompted to download and install Zoom when you click a join link. If you need additional information or assistance prior or during the Women Impact Virginia program, please contact impact@vt.edu. Support will be provided from a member of the Women Impact Virginia team. If you need assistance, please call Virginia Tech Continuing and Professional Education at (540) 231-5182. If you are an individual with a disability and desire an accommodation, please contact Mallory T. Tuttle at 757-964-8855or email mtuttle@vt.edu or TDD 1-800-828-1120 during regular business hours at least 10 business days prior to the first day of the program.? Requests received less than 10 business days prior to the start date of the program may not be able to be accommodated. Virginia Tech's Equal Opportunity/Affirmative Action Statement: www.vt.edu/about/equal-opportunity.html
Join Virginia Tech on Wednesday August 25 from 9 a.m. to 12 p.m. for Women Impact Virginia - a free virtual professional development series focused on engaging, connecting and inspiring women who want to make an impact on their communities.
This half-day session will feature leaders in the nonprofit industry, including three fast-track sessions exploring topics of Board & Membership Management, Volunteerism & Stakeholder Engagement and Financial Management & Fundraising. Keynote speakers will share their own stories of leadership and success, and a special Hokie Highlight will look at the partnerships and initiatives Virginia Tech is fostering to lead advancement in the nonprofit industry.
Hear from these empowering leaders:
>Keynotes
Opening keynote speaker: Abby Verdillo Hamilton, President & CEO, United Way of Roanoke Valley
Closing keynote speaker: Jennifer Thomas, Executive Director, Virginia Association of Museums
Fast-track sessions and speakers:
>Board and Membership Management
Blair Durham, Black BRAND
Charm Bullard, Virginia Center for Inclusive Communities
Kristie Helmick Proctor, Center for Rural Virginia & Council for Rural Virginia
>Volunteerism and Stakeholder Engagement
Trinity Villanueva, Public Art Reston
Joanie Petty, Boys & Girls Club of Blue Ridge
Hope Sinclair, Ph.D., Communities in Schools of Hampton Roads
>Financial Management and Fundraising
Sharhonda Woods, ForKids
Candra Parker, CultureWorks
Tiffany Haworth, Dan River Basin Association
>Hokie Highlight
Julie Walters-Steele, Virginia Tech Reynolds Homestead
Tonya Price, Ph.D., Virginia Tech Cooperative Extension
Sara Steinert Borella, Ph.D., Virginia Tech Steger Center for International Scholarship
If you are interested in the work being led by women across Virginia, this free series created by Virginia Tech is for you!
Visit the website to learn more about our speakers and to Register Today!