Patrick County-Home of VA State Peach Festival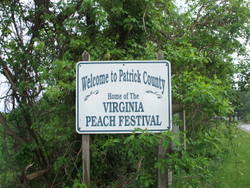 P. O. Box 577
334 Patrick Avenue
Stuart, VA 24171
Phone: 276-694-6012
Contact: Rebecca Adcock
Email: patcchamber@embarqmail.com
Website: www.patrickchamber.com

Patrick County, VA, has been designated as the place for the Virginia State Peach Festival by the Virginia Legislature. This sign is located on Rt. 8, at Tuggles Gap, near the Blue Ridge Parkway

To learn more about the annual celebration in August, call the Patrick County Chamber of Commerce office at 276-694-6012.