Wildlife-Lover's Leap Birdhouse Store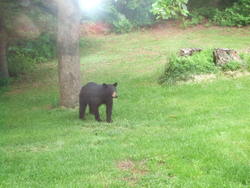 8487 JEB Stuart Highway
Meadows of Dan, VA 24120
Phone: 276-952-1790
Fax: 276-732-2158 2nd phone
Contact: Henry & Edna Mickles
Email: birdhouseman@loversleapbirdhouses.com
Website: www.loversleapbirdhouses.com

Wildlife pictures are taken often at Lover's Leap Birdhouse store, sitting on top of Lover's Leap Mountain and on U. S. Route 58. Bear are frequently seen as shown here. Variety of birds, raccoon, bob cats, and much more.
Come and purchase hand crafted bird houses of all shapes and sizes and bird feeders.

Crafted by Henry and decorative painting by his wife Edna.

This picture was taken by Tom Bishop on June 19, 2009 in the early afternoon.

Go to their web site and link to You Tube videos of wildlife. Meet "Peaches" the mother bear.