Mayberry Presbyterian Church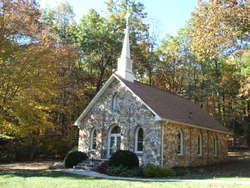 1127 Mayberry Church Rd
Meadows of Dan, VA 24120
Phone: 276-251-5488
Contact: Rev. Stewart Childress
Email: ellen@blueridgecreations.com
Website: www.mayberrychurch.org

Tours are given by appointment: call Jim Saunders at 276-952-2516
or email at ellen@blueridgecreations.com


Sunday Worship Services are from 9am till 10am.
DIRECTIONS: take Business Rt. 58 to Meadows of Dan and go to the
Parkway South. go about 3 miles on the parkway till you reach
Mile Post 180 and go left on Maple Swamp Rd.
· Area Attractions
· Churches
· Non- Profits
· Religious