Beach Music Festival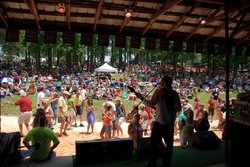 P.O. Box 747
Wayside Road
Stuart, VA 24171
Phone: 276-694-2150
Contact: Stanley Fain/Stuart Rotary Productions
Website: www.beachfestival.com/

The Annual Beach Music Festival is held the 2nd weekend in June annually at the Wayside Park, near Stuart, VA. For more information on 2018's event call 276-694-2150. The official name for it is "Hot Fun In The Summertime".

Celebrating 33 years!!


· Area Attractions
· Festivals
· Music Entertainment
· Tourist Attractions