Chamber News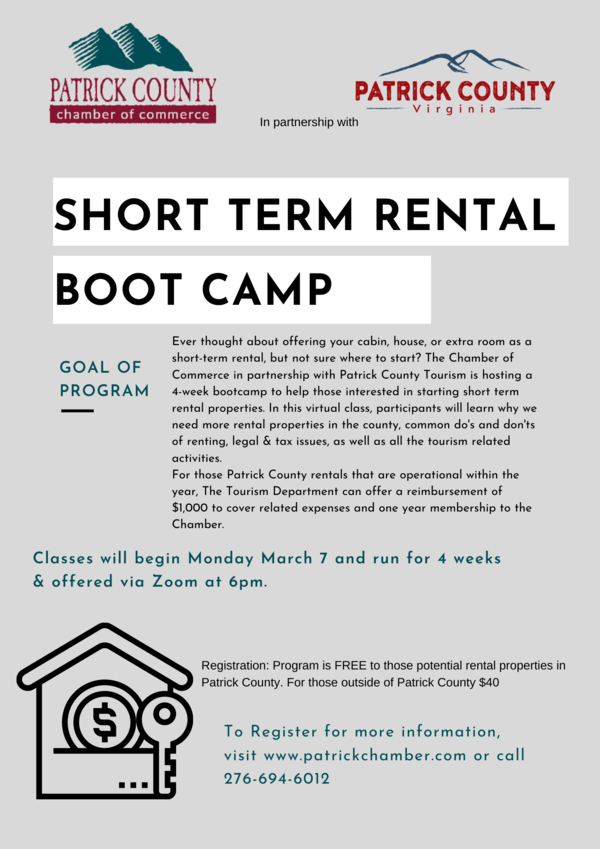 Vacation Rental Boot Camp
February 10, 2022
Ever thought about offering your cabin, house, or extra room as a short-term rental, but not sure where to start? The Chamber of Commerce in partnership with Patrick County Tourism is hosting a 4-week bootcamp to help those interested in starting short term rental properties. In this virtual class, participants will learn why we need more rental properties in the county, common do's and don'ts o
Ever thought about offering your cabin, house, or extra room as a short-term rental, but not sure where to start?
The Chamber of Commerce in partnership with Patrick County Tourism is hosting a 4-week bootcamp to help those interested in starting short term rental properties. In this virtual class, participants will learn why we need more rental properties in the county, common do's and don'ts of renting, legal & tax issues, as well as all the tourism related activities.
For those Patrick County rentals that are operational within the year, The Tourism Department can offer a reimbursement of $1,000 to cover related expenses and one year membership to the Chamber.*
Free for Patrick County Residents, $40 for non-residents
Classes will be held via ZOOM on Mondays March 7-28. Starting at 6pm and lasting for roughly 2 hrs.
**To be eligible for reimbursement or complimentary chamber membership, rental must be located in Patrick County, and you must attend all classes.
For more information, contact the Chamber of Commerce at 276-694-6012 or email patccahmber@embarqmail.com.