Chamber News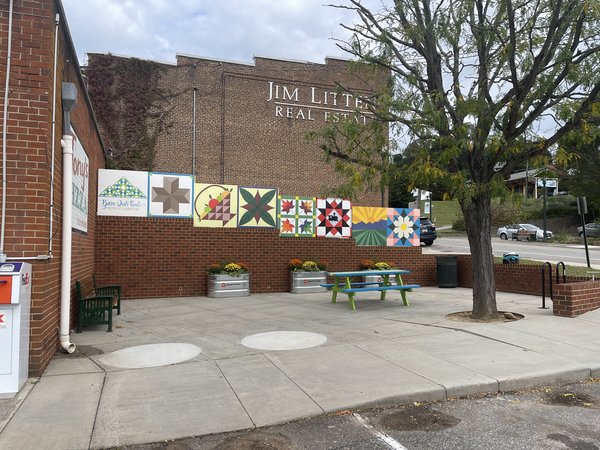 Patrick County Chamber of Commerce announces completion of Tony's Pizza pocket park
October 5, 2021
The Patrick County Chamber of Commerce is happy to announce the completion of our Tony's Pizza pocket park. This beautification project was made possible through a Keep Virginia Beautiful 30 in 30 Green Grant.
The project included trimming the existing tree, patching the empty tree rings, pressure washing, painting wooden barn quilts, installing flower containers and painting the existing picnic table. The barn quilts are a wonderful pop of color with the designs reflecting the cultural heritage of the area: an apple basket, tobacco leaf, train motif, mountains, fairy stone and the state flower, the dogwood.
The Chamber would like to thank the many partners that made this project possible. The Town of Stuart for all their hard work cleaning, patching the cement, and installation of the barn quilts.Tony's pizza, their partnership with helping to create the inviting space. The Patrick County Barn Quilt Trail group consisting of Linda Wilson, Lisa Martin and Ann and Nelson McConnell who spent many hours painting the quilts. The Patrick County Master Gardeners for their help in selection and planting of plants. Tractor Supply (Stuart Store) for their sponsorship of containers and potting soil, and Leviner Tree Service for trimming the tree. A total of over 1600 hours went into completion of the project.
Rebecca Adcock, Executive Director of the Patrick County Chamber of Commerce, stated "This project is a small part of the larger plan for the downtown area, following the downtown historic district approval, and the county CBDG planning grant."