Chamber News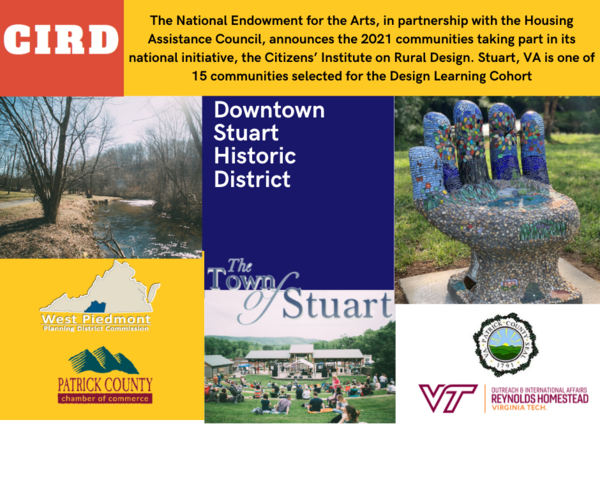 Patrick County Chamber of Commerce to Receive Funding and Assistance from National Endowment for the Arts
May 20, 2021
Stuart, Virginia— In its ongoing support of rural communities, the National Endowment for the Arts, in partnership with the Housing Assistance Council, announces the 2021 communities taking part in its national initiative, the Citizens' Institute on Rural Design. Stuart, Virginia is one of 15 communities selected for the Design Learning Cohort in which leaders participate in peer learning. This i
Patrick County Chamber of Commerce to Receive Funding and Assistance
from National Endowment for the Arts
Stuart, Virginia— In its ongoing support of rural communities, the National Endowment for
the Arts, in partnership with the Housing Assistance Council, announces the 2021 communities taking part in its national initiative, the Citizens' Institute on Rural Design. Stuart, Virginia is one of 15 communities selected for the Design Learning Cohort in which leaders participate in peer learning. This includes training in design, planning, community engagement, and facilitation techniques; one-on-one technical assistance on their community design challenge, and support in navigating funding opportunities.
"Design is a powerful tool to leverage local assets and celebrate culture, ultimately fostering a strong sense of place," said Arts Endowment Director of Design and Creative Placemaking Jen Hughes. "As rural America recovers from the global pandemic, the Citizens' Institute on Rural Design stands ready to support the bold visions that communities like Stuart have put forth to guide their future development."
Since 1991, the Citizens' Institute on Rural Design has worked in communities with populations of 50,000 or less to enhance quality of life and economic vitality through planning, design, and creative placemaking. To date, the Arts Endowment has engaged more than 100 communities in all regions of the country.
"Our team of Bryce Simmons, Patrick County Economic Development; Sarah Wray, Reynolds Homestead; Kathleen McEvoy, West Piedmont Planning Commission; and I are very excited to have been selected to participate in the learning cohort. The knowledge we will gain will be invaluable to how we work to move Stuart and Patrick County, as whole, forward." said Chamber Director, Rebecca Adcock.
The design project area will focus on creating multi-modal access to community facilities, developing blight mitigation strategies, and placemaking enhancements incorporating the cultural resources within the Downtown Stuart Historic District. This challenge will curate innovative approaches to revitalization, recommendations to infrastructure that create inclusive and accessible spaces, and build opportunities to connect residents to healthier lifestyles. As a scenic gateway to the Blue Ridge Parkway, the downtown district could be an ideal center for community and economic development with proper planning. Based on previous visioning workshops, this area is seen as the potential spark of expanded community pride.
For more information on this program announcement, visit arts.gov/news or rural-design.org.