Event
Town of Danbury 2023 Parade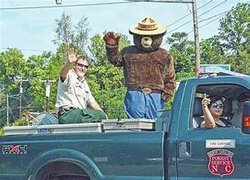 Town of Danbury - Danbury, NC 27016 - 336-403-2207 - www.townofdanbury.com

Date: September 9, 2023 - Town of Danbury 49th Annual Parade. Theme: "Celebrating First Responders: Hearts of Heroes." Applications are now available at the Danbury Town Hall or on the town's website. Call Mayor Whitt at 336-403-2207 or the Danbury Town Hall at 336-593-2002 for parade applications or other information. Deadline for applications is Friday, September 1st and may be sent online or delivered at Danbury Town Hall, Danbury, North Carolina. Please come ride in our parade...we'll have FUN!
Other Information:

Parade line-up begins: 8:00 a.m. to 8:30 a.m.
Float judging begins: 8:30 a.m. to 9:30 a.m.
Awards/Ribbons: Presented at the Stokes County Government Center for parade display and announced again on stage at Moratock Park during the Stokes Stomp event by the Mayor of Danbury. If parade entrants are not being judged, one may arrive no later than 9:00 a.m.

Traffic through town is stopped 9:30 a.m. to 9:45 a.m. and the parade leaves the Stokes County Government Center promptly at 10:00 a.m. and goes through the Town of Danbury ending at Moratock, kicking off the "Stokes Stomp, Festival on the Dan."

Everyone invited -- anyone wishing to participate in the parade should contact the Town of Danbury or visit the Town of Danbury's website.