Chamber News
Patrick County Chamber of Commerce closed in observation of the holiday season
November 29, 2022
The Patrick County Chamber of Commerce will be closed in observance of the Christmas and New Year's holidays (December 19, 2022 through January 1, 2023) The Chamber will reopen on Monday, January 2nd at 9:00 a.m.

November 14, 2022
We are so excited that once again we will be presenting the Chamber Christmas Bonus. Thanks to the generosity of an anonymous donor, the Patrick County Chamber of Commerce has been granted a fund to give five Patrick County citizens a $1000 Christmas bonus. A random drawing will be held to pick the winners. The contest will begin on November 16, 2022. . . . read more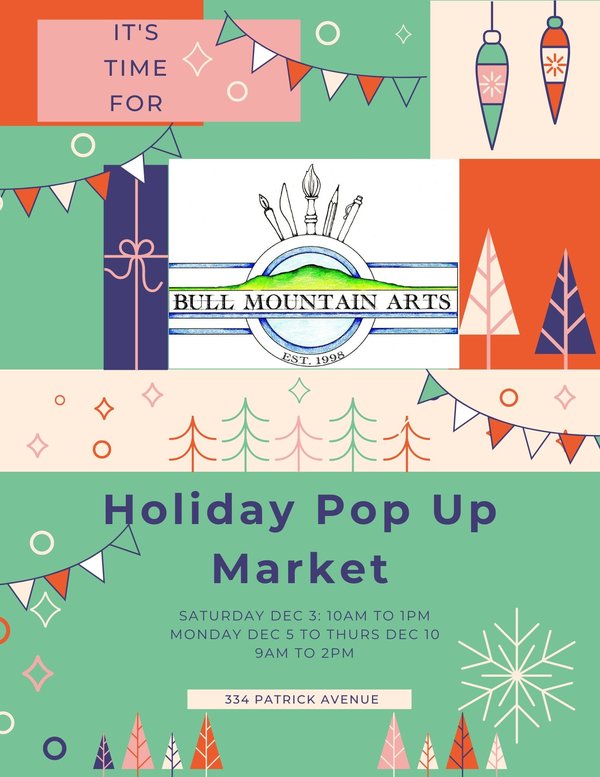 Bull Mountain Arts to host Holiday Pop Up Market
November 10, 2022
Bull Mountain Arts will host a Holiday Pop-Up Market in conjunction with the upcoming Mistletoe Market. Opening Saturday, December 3rd, 10 AM to 1 PM and Monday, December 5th to Thursday, December 10th, 9 AM to 2 PM. Shop Bull Mountain artists' creative wares including paintings, jewelry, glass art and more at the Patrick County Chamber of Commerce, 334 Patrick Avenue, Stuart, VA.
Upcoming Events

Feb 1-Dec 31:
Artist Craig Richards to host Painting Classes at The Arts Place

502 N Main Street - PAINT WITH CRAIG RICHARDS. Artist Craig Richards will host painting classes for anyone interested on Sundays, 2-4 PM, Studio Loft, The Arts Place of Stokes, Danbury, North Carolina. Class instruction is FREE. Text to reserve a spot (336) 655-4888. . . . learn more

May 1-Dec 31:
Pizza at the Villa: Starting in May

Villa Appalaccia WInery - 752 Rock Castle Gorge - Music and Pizza at Villa Appalaccia. Beginning Sunday, May 1 (and continuing every Sunday), we'll again be serving up our famous wood-fired pizzas! Pizzas are available during our normal hours (12:00 PM until 4:30 PM) and are weather permitting so be sure to check the weather report! www.villaappalaccia.com. We've resumed our regular hours (Wed-Sun). Tastings are back!!! Regular music (Saturdays) and pizzas (Sundays). Follow our schedule on our event page. Read more..... . . . learn more

Fairy Stone State Park, 967 Fairystone Lake Drive - June 13 - December 31, 2022 (Mondays). Geocaching at Fairy Stone State Park, 967 Fairystone Lake Drive, Stuart, VA 24171. Hosted by: Fair Stone State Park. . . . learn more
| | |
| --- | --- |
| | Chamber Event |
Adventure Map