Chamber News
Rededication of Trails at IC DeHart Memorial Park Event
March 26, 2023
Save the Date: There will be a rededication of trails at IC DeHart Memorial Park located at 2631 Charity Highway, Woolwine, VA (24185) on Friday, April 28th, 3:00 p.m. hosted by Patrick County Tourism. Everyone is invited to attend this event.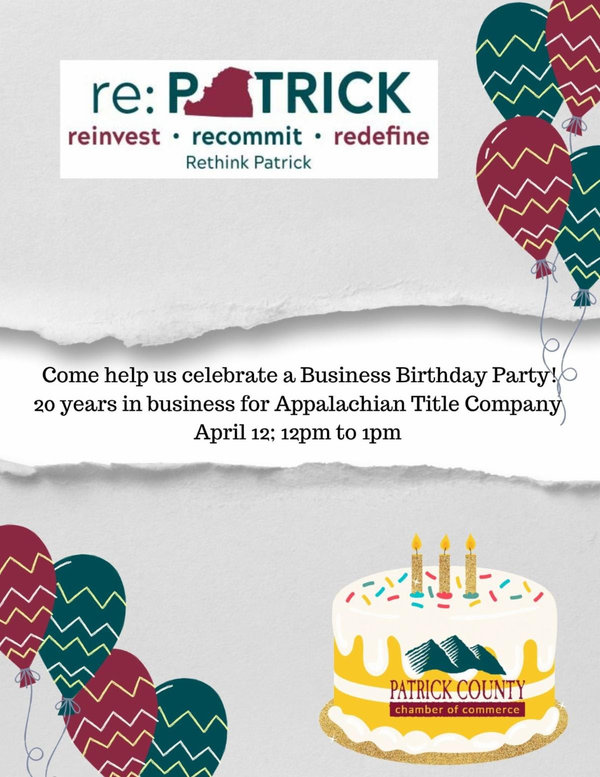 Appalachian Title Company to Celebrate 20th Year
March 23, 2023
The Patrick County Chamber of Commerce would like to invite you to join us in celebrating twenty years of service with the Appalachian Title Company. You are invited to stop by on Wednesday, April 12th, 12:00 p.m. until 1:00 p.m. and enjoy a cupcake and celebrate this special day with Appalachian Title Company staff located at 104 W Blue Ridge Street, Stuart, Virginia.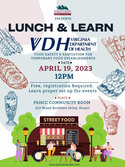 March 23, 2023
Are you a food establishment, vendor or event organizer? The PC Chamber of Commerce will be hosting a lunch and learn on Wednesday, April 19th, begins at 12:00 noon. Topic: "Food Safety & Sanitation for Temporary Food Establishments." . . . read more
Upcoming Events

Fairy Stone State Park Visitor Center - 967 Fairys - Fairy Stone State Park will host the Moonshine Hollow Hike. Walk in the footsteps of moonshiners of decades gone by. Visit the remains of two old moonshine stills and learn about the very interesting, and sometimes tragic, history of our local moonshining activities -- Fridays, 10 a.m. at the Fairy Stone State Park Visitor Center. Guests will meet an interpreter at the Visitor Center then drive to the hike location. This hike is over steep, uneven terrain and is difficult. High top shoes, long pants, insect spray and a walking stick are advised. 1-276-930-2424 or visit www.dcr.virginia.gov/state parks/fairy-stone. . . . learn more

The Landmark Center - In partnership with the Alzheimer's Association of Central and Western Virginia, the Landmark Center and Blue Ridge Therapy Connection will begin hosting a monthly Alzheimer's Forum for anyone interested in learning more about dementia, caregiving, and other issues surrounding the disease. The program will be hosted at The Landmark Center from noon to 1 p.m. on the fourth Tuesday of each month. There is no cost to attend, and lunch will be provided. On Tuesday, January 24th, the program "Is It Normal Aging, or Is It Dementia?" which will be presented by Brooke Gill, program manager of the Roanoke chapter of the Alzheimer's Association. The program is open to anyone interested in learning more, and registration is requested to plan for the meal. If there is inclement weather that day, the program will be offered on February 28th. To attend, call (276) 694-3050 to register. . . . learn more

500 N Main Street - The Stokes County Arts Council will host the "Forsyth Tech Community College Fine Arts Faculty and Alumni Art Exhibition" in the Apple Gallery - 500 Main Street, Danbury, NC. A reception is scheduled for Friday, March 3, 2023, 6:30 p.m. to 8:00 p.m. Exhibit Dates: February 16 through March 31, 2023. The viewing of this exhibit is free and open to the public. . . . learn more
| | |
| --- | --- |
| | Chamber Event |
Adventure Map