Chamber News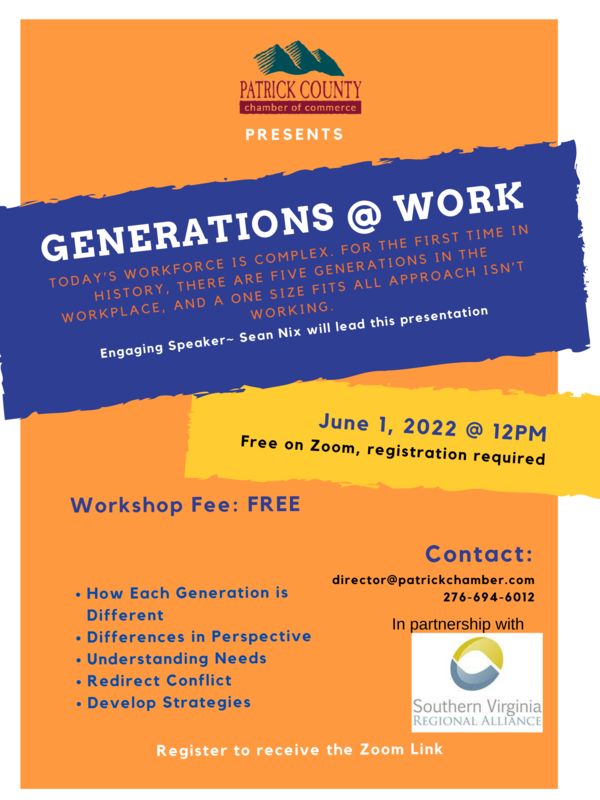 Chamber to host Lunch and Learn virtual event
May 10, 2022
The Patrick County Chamber of Commerce will host a virtual Lunch and Learn on Wednesday, June 1st, 12:00 p.m. until 1:00 p.m. with Sean Nix. Topic: "A Multigenerational Workforce." More information forthcoming with link to sign up for this discussion.
Generations @ Work | Unlocking the Power of a Multi-Generational Workforce
Today's workforce is complex.  For the first time in history, there are FIVE generations in the workplace, and a one size fits all approach isn't working.  Five generations of workers means five approaches to work, and brings unique challenges and opportunities. To unlock the power of a multi-generational workforce, it is essential to know the traits, beliefs, and life experiences that forged each generation and influence how they work, communicate, respond to change, and contribute to the organization's performance and culture.
The workshop elements will include:
The historical events, economics, parenting styles, and technological changes that shaped each generation's values, beliefs, and worldviews.

Differences in perspective on respect, loyalty, work ethic, communication, feedback, and authority.

Understanding needs and leveraging best practices to motivate, manage and unlock their best.

Redirect conflict and build a sense of community through common ground.

Develop strategies to recruit, steward, and retain talent in every generation.

Highly interactive and actionable.