Event
Villa Appalaccia End-of-Season Celebration!!!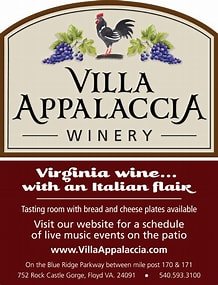 Dec 16, 2023

Villa Appalaccia - 752 Rock Castle Gorge - Floyd, VA 24091 - 540-593-3100

Final Event of the Season!!! Mark your Calendars: Saturday, December 16th, 11:00 AM - 6:00 PM. Can you believe it--another season in the books! Join us one more time this year. It's your last chance to snag some wine, listen to some holiday tunes (Kris Hale, 1-4 on the covered patio) and enjoy the Villa before we close the shutters for the winter. Thank you all for another incredible year and hope to see you one more time!