Event
Stokes Arts and Taylor Vaden to present "Elvis Weekend"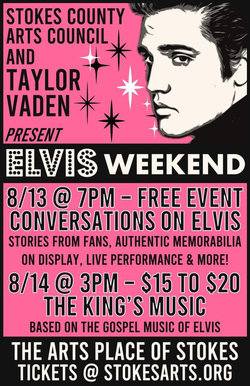 Aug 13 - 14

502 N Main Street - Danbury, NC 27016 - 1-336-593-8159 - www.stokesarts.org

Stokes County Arts Council and Taylor Vaden present "Elvis Weekend" beginning Saturday, August 13, 2022 at 7:00 p.m. FREE Admission on Saturday. Stories from fans, authentic memorabilia on display, live performance and more! On Sunday, August 14th at 3:00 p.m. The King's Music - based on the gospel music of Elvis. Tickets: $15/SCAC members and $20/general audience. For tickets or additional information: Tickets@stokesarts.org.