Event
Stuart Rotary to host "The Uptown Cruise In"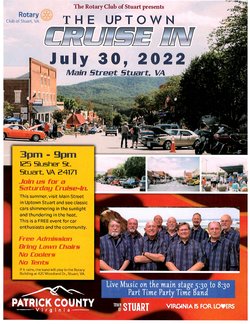 Jul 30, 2022

125 Slusher Street - Uptown Main Street - Stuart, VA

The Rotary Club of Stuart presents "The Uptown Cruise In" on Saturday, July 30, 2022, 3:00 p.m. until 9:00 p.m. Live music on stage, 5:30 p.m. to 8:30 p.m. (Part Time Party Time Band). Join us for a Saturday Cruise-in -- Classic Cars. Free Admission. Bring Lawn Chairs. No Coolers, No Tents.