Event
Summer Camp Alert: Verizon Innovative Learning STEM Achievers!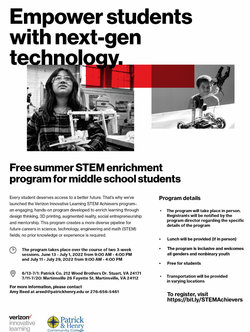 Apr 1 - May 31

Patrick & Henry Community College

Spring 2022 Training Guide includes: Diversity & Inclusion Training, Phlebotomy Technician, Machining Level 1, Fab Lab Classes, Social Media Workshops. (Patrick and Henry Community College Workforce, Economic and Community Development) Browse our classes: ph.augusoft.net for training guide and information.