Star Theatre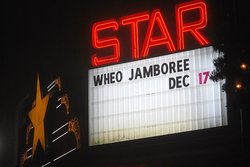 P.O. Box 414
318 Patrick Avenue
Stuart, Va 24171
Phone: 276-692-6706
Contact: Phillip Combs
Email: startheatre@yahoo.com

Revisit yesteryear in the newly renovated Historic Star Theatre. First opened in 1947, for decades the Star Theatre was the place in the region for live family entertainment. Now after forty-five years, the Star's marquee shines again and offers the region an outstanding mix of professional quality theater productions, and concerts.

The Historic Star Theatre is located on Patrick Avenue, Downtown Stuart, VA. This is a beautiful facility is available for music concerts, arts, drama, and various kinds of entertainment. To reserve for private functions call us today.

· Area Attractions
· Crooked Road Music
· Dinner Theatre
· Museums

· Theatre
· Tourist Attractions

Corporate Gold Club