Chamber News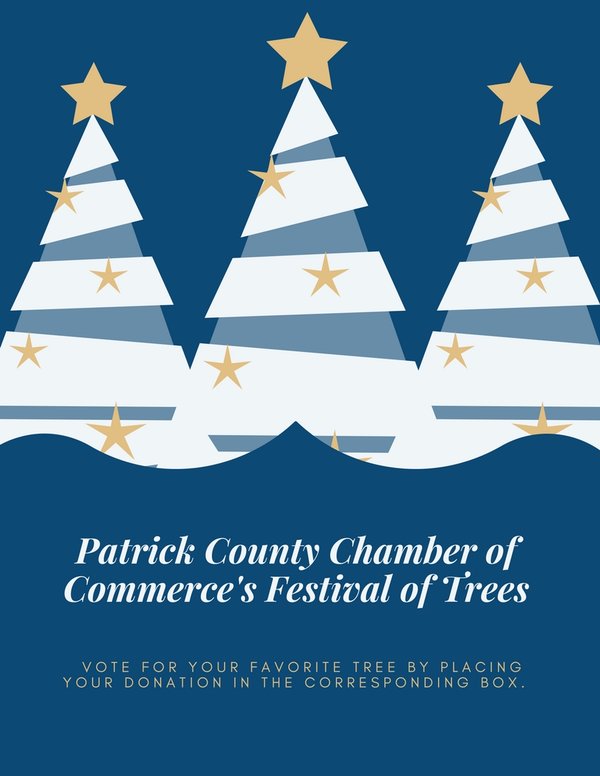 Patrick County Chamber of Commerce's Festival of Trees
November 20, 2017
Come get in the holiday spirit with our trees beautifully decorated by 6 local non-profits.
FOR IMMEDIATE RELEASE
November 17, 2017
Patrick County Chamber of Commerce
Stuart, VA~ Visit a wondrous world of enchantment during the 2017 Patrick County Chamber of Commerce Festival of Trees, on view to the public from Monday November 20, through Saturday December 30, 2017. This wonderful holiday event features six decorated trees, by local non-profits in themes suited to their missions.
The trees are on display at the Patrick County Branch Library. This is a fundraiser for the six participating non-profits. The public is asked to vote for their favorite tree by making a monetary donation in the voting box. All money raised will be awarded to the charities. The local charities participating are, Blue Ridge Regional Library Foundation/Bookmobile Fund, Caring Hearts Free Clinic, One Family Productions, PARC Workshop, Patrick County Alzheimer's Group, Patrick County Community Food Bank.
For more information contact the Patrick County Chamber of Commerce office at 276-694-6012 or visit, www.patrickchamber.com
Library Hours
Hours:
Monday: 10 AM - 6 PM
Tuesday: 10 AM - 8 PM
Wednesday: 10 AM - 6 PM
Thursday: 12 PM - 8 PM
Friday: 10 AM - 2 PM
Saturday: 10 AM - 2 PM