Chamber News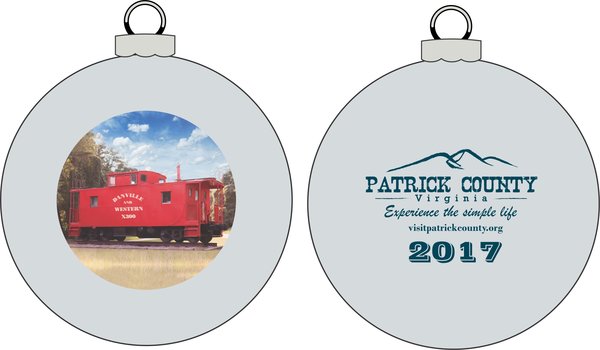 Chamber Ornament Back on Track
October 21, 2017
The Patrick County Chamber of Commerce is proud to make available the new 2017 Danville and Western X300 "Dick and Willie" ornament, adding to an already impressive ornament collection series.  In addition, the Chamber will have available for purchase a matching mug.   Both the beautifully crafted ornament and mug will be unveiled at The Apple Dumpling Festival on Saturday, October 21st and availa
NEWS RELEASE
October 16, 2017
Rebecca Adcock, Executive Director
Patrick County Chamber of Commerce
334 Patrick Avenue/PO Box 577
Stuart, VA 24171
CHAMBER OF COMMERCE BACK ON TRACK WITH THE 2017 HOLIDAY ORNAMENT
The Patrick County Chamber of Commerce is proud to make available the new 2017 Danville and Western X300 "Dick and Willie" ornament, adding to an already impressive ornament collection series. In addition, the Chamber will have available for purchase a matching mug. Both the beautifully crafted ornament and mug will be unveiled at The Apple Dumpling Festival on Saturday, October 21st and available for purchase between the hours of 10 a.m. and 4:00 p.m. at the Chamber office. Following the festival, ornaments will be available first of November at all Carter Bank locations, The Reynolds Homestead, Blue Ridge Bank and the Chamber office.
This ornament is available for $12 and the mug is available for $10 (sales tax included). The ornament measures three and one-fourth inches. The mug is a classic eleven ounce matte white ceramic coffee mug, both displaying the Danville and Western caboose on one side and the Patrick County logo and 2017 commemorative date on the other side.
A little history about the Danville and Western. The Danville and New River Railroad was chartered in 1873, with the line completed to Martinsville, Virginia in nearby Henry County by 1881. In 1883, citizens of Patrick County approved a bond of $150,000 to expand the line. The first train pulled into what was then Taylorsville in August 1884. With the growth associated with the railroad along the Mayo River, Taylorsville (later renamed Stuart), was incorporated as a town in 1884. Following the completion of the railroad, the town of Stuart continued to grow steadily. The town's growth led to the distinction of "uptown" and "downtown" Stuart reflecting government and private businesses as well as industrial growth. With continued growth and new and modern methods of transportation on the horizon, the Danville and Western left Stuart seventy-five years ago.
For additional information about the new 2017 Danville and Western ornament or mug, please contact the Patrick County Chamber of Commerce at 276-694-6012 or visit our website at www.patrickchamber.com.